Hello all! We promise we have not forgotten about the blog! We opened our storefront on March 14th, 2020 and had to close the next day due to the pandemic. As far as opening a new business, this has been the wildest ride we ever could have imagined. But we are still here!
We are so proud that we survived year 1, but we are still picking up the pieces and there's just not enough hours in the day, and thus we have not been able to dedicate time to the website this year and have concentrated on direct communications through our social media, so if you want regular updates, check out our Instagram or Facebook as we rebuild our blog routine. You can also sign up for our email list here.
During this very unique year, our community helped us help people. We donated over 700 masks to hospitals, homeless shelters, the Sanctuary encampment, George Floyd Memorial, childcare facilities, and to the community in our free mask box. We have been selling masks to the public, made at RETHINK and cut from surplus and secondhand fabrics, ever since the CDC recommended that everyone wears masks.
In May we took on an emergency project to upcycle hospital gowns into isolation gowns after a local elderly care facility had received their first positive COVID19 case, and were running out of PPE fast. Through the support of the RETHINK community, it was possible for me to pivot and dedicate RETHINK's full effort towards getting 200 isolation gowns to the facility.
We were able to launch our socially distanced sewing classes in June, but had to put them on pause in the Fall as the COVID numbers in town were getting too high.
In July, we launched our size inclusive sidewalk clothing swap in front of RETHINK where people could come take free clothing and shoes, and donate clean clothes in good condition. We set up 6 days a week for 2 months, and recirculated at least 800 garments.
In September we set up our Green Boutique by the front door, so people could come shop in person, masked, 1 customer at a time.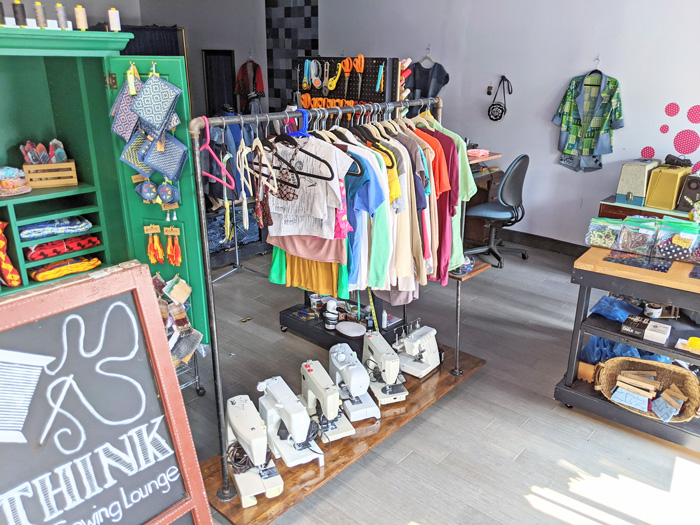 In November, we launched our Curbside Repairs where we could take on tailoring projects that don't require fittings and could start our billable work again. We also built out the Mini Green Boutique to include a lot more options for upcycled gifts for the holidays, and launched our Zoom SOS private sewing lessons.
In December we started sourcing and selling secondhand sewing supplies to further support our mission of getting as many things that already exist back into rotation
In March 2021 we relaunched in-person sewing classes in addition to online versions (by feedback from our community). Our classes have fed our souls! It has been so good to invite people into our space finally, in small groups, masked. Our staff is now fully vaccinated , and we are currently discussing as a team how to introduce tailoring clients into the sewing lounge while prioritizing classes.
If you want to join our tailoring waitlist, email us about your project and send a pic to info@rethinktailoring.com. Just a friendly reminder that our mission is to get as many garments that ALREADY exist BACK into rotation. We work on garments 1 year or older (or thrifted pieces) and mend garments of all ages. Not sure if you project fits into what we do? We are not here to judge, so just email us and we'll let you know!
With the mask mandate ending in town, we plan to keep up our mask requirements so we can instead start inviting more students into our classes, and host events! We look forward to seeing you!
XOXO The RETHINK Team