Well friends, in case you didn't see our announcement video, there have been some big changes at RETHINK over the last few months. Opening a day before the pandemic shut everything down, we hung on as long as we could, but after 2.5 years we still weren't able to pay the bills, and I could no longer sacrifice the time from my family and kids. On 10/1/22 I had to say goodbye to my team and scale things back at the shop. 3449 Bloomington Ave is now my private studio, with no drop-in hours. I'm getting back to my roots, and will continue my mending, specialty tailoring of preloved garments, and upcycled designs, private lessons, an occasional class, and I will finally have more time for my Patreon.
*(tailoring and shopping by appointment, see below for more info under photo) 
In a business where the whole point was to bring people together to gather regularly and build community, the worst thing that ever could have happened was a pandemic. Instead, our primary function for the past 3 years has been survival and risk management. We have been busting our butts trying to get our classes and lounge filled, but there comes a point where we have to realize that it's just bad timing, and there's nothing more we could have done.
It was short lived but I have absolutely loved everything we have been able to do the last 3 years. Thank you for believing in me and my team and helping us get this far. 
Now here's to figuring out the next chapter. Thank you again for everything.
With a slightly crushed heart, XOXO Kristen.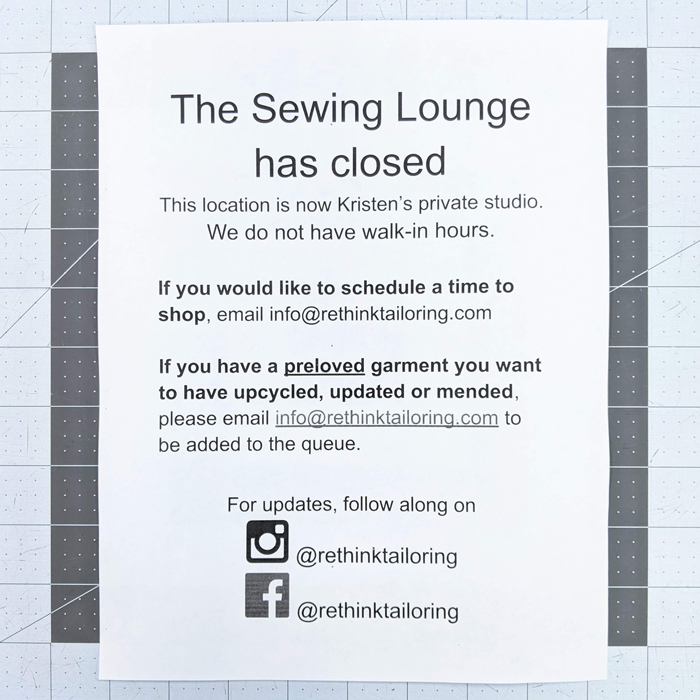 *If you would like to have a garment mended or a preloved garments (1 year or older) upcycled, updated, let out, etc. email info@rethinktailoring.com about your project, with photos and your timeline, and I can let know if I am able to accommodate your project! I will email you when it's your turn, and if you already had a taken care of elsewhere, no worries! In the meantime, you can also join our email list.