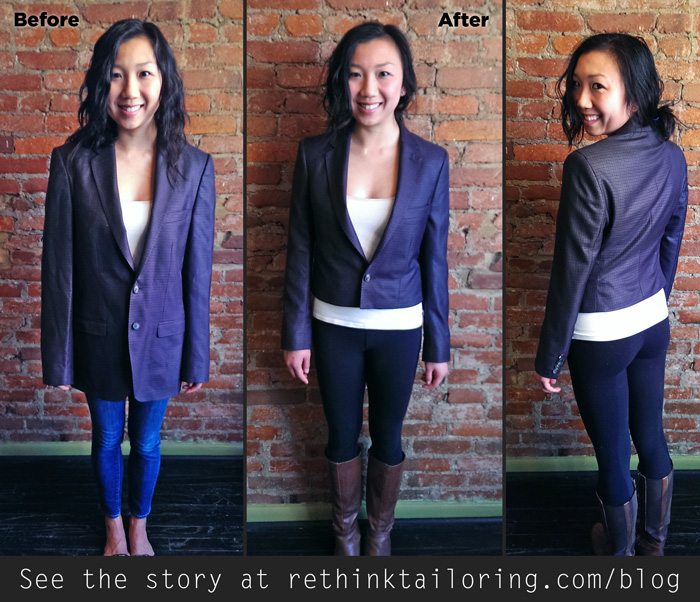 Quite often I like to use the phrase "where there's a will there's a way." I get such a variety of projects, simple and complex and the amount of work that goes into the piece varies so much. It is not for me to decide what's worth it, but instead what's possible, and then you decide whether you want to move ahead with the project or not.
This jacket had previously belonged to Jane's boyfriend, so as you can imagine there was some sentimental value to the garment, in addition to it be a really nice quality coat to begin with. I wanted to help figure out a way that this could be a wardrobe staple and fit her style, but clearly the jacket was way too big for her frame.
I slimmed the sides and the chest, recut the shoulders, slimmed and hemmed the sleeves, and shortened the jacket to give it a modern cut. This project may have been a 9 hour project, but it was way worth it, because it was worth it for her.
I have also done similar things with clients, all genders and identities, who brought in their grandfather's/father's coats to revamp so they can keep those memories with them.
Do you have a sentimental piece that you want revamped so it will fit into your wardrobe? Email me kristen@rethinktailoring.com with questions or to schedule an appointment.
My mission is to get as many garments that already exist back into rotation. I may not work on things brand new from the store, but bring me your family hand-me-downs, secondhand finds, or even the pieces you bought new a year ago but they never quite worked out and instead gathered dust in your closet. These are the items I love to rescue.
Sincerely,
The Upcycler (Kristen)